By transferring mouse aged hematopoietic stem cells (aged HSCs, *1) to the environment of young mice (bone marrow niche, *2), it was demonstrated that the pattern of stem cell gene expression was rejuvenated to that of young hematopoietic stem cells. On the other hand, the function of aged HSCs did not recover in the young bone marrow niche. The epigenome (DNA methylation, *3) of aged HSCs did not change significantly even in the young bone marrow niche, and DNA methylation profiles were found to be a better index than the gene expression pattern of aged HSCs.
A research group led by Professor Atsushi Iwama at the Division of Stem Cell and Molecular Medicine, The Institute of Medical Science, The University of Tokyo (IMSUT) announced these world-first results and was published in the
Journal of Experimental Medicine
(online) on November 24th.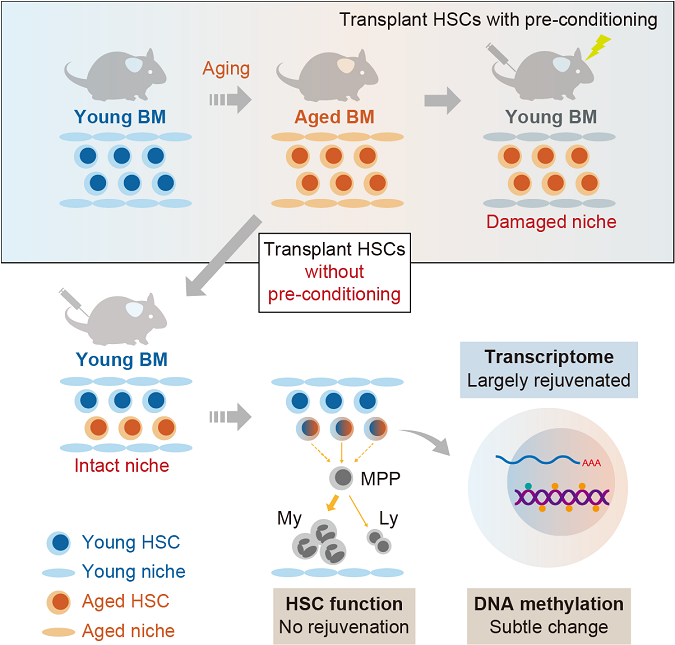 (*1) Aged hematopoietic stem cells (aged HSCs)
The functions and characteristics of hematopoietic stem cells change with age. The ability to produce blood cells is reduced and differentiation is biased, increasing the risk of developing myeloid tumors.
(*2) Bone marrow niche
The microenvironment in the bone marrow that is essential for maintaining hematopoietic stem cells.
(*3) Epigenome (DNA methylation)
Chemical modification of genomic DNA and histone proteins. The epigenome is acquired and changes according to cell conditions. DNA methylation acts to suppress gene expression (transcription).
Press release