Researchers at The Institute of Medical Science, The University of Tokyo play a global role in understanding SARS-CoV-2 and COVID-19 and share their mission of contributing to saving the lives of people.
Publications
Tansei vol.41 2020.09:UTokyo's Official Magazine
*only in Japanese
Press Releases
(Latest three releases)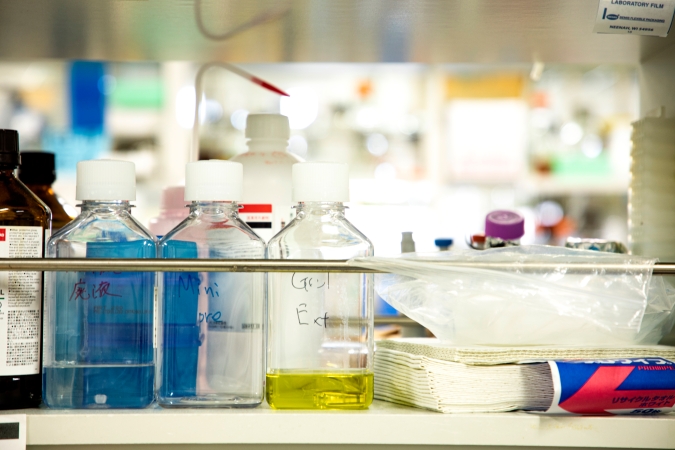 October 8, 2020
Identification of a viral factor that impairs immune responses in COVID-19 patients
Representative : Associate Professor SATO Kei at the Division of Systems Virology

July 27, 2020
Development of an accurate and rapid diagnostic method for COVID-19 using CRISPR-Cas3-Paper test strip results are possible within 40 minutes-
Representative : Professor MASHIMO Tomoji at the Division of Animal Genetics

June 30, 2020
Joint Research Coronavirus Task Force Established to Promote Research and Development of COVID-19 Vaccine for Mucosal Immunity Based on Genetic Findings of the Novel Coronavirus Disease
Joint research with Keio University, etc.: Professor IMOTO Seiya at the Division of Health Medical Intelligence

Scientific Papers
(Latest three papers)
Protective Immunity and Persistent Lung Sequelae in Domestic Cats after SARS-CoV-2 Infection
Emerging Infectious Diseases (online) January 7, 2021 doi:10.3201/eid2702.203884
Shiho Chiba, Peter J. Halfmann, Masato Hatta, Tadashi Maemura, Shufang Fan, Tammy Armbrust, Olivia M. Swartley, LaTasha K. Crawford, Yoshihiro Kawaoka
Description
SARS-CoV-2 D614G Variant Exhibits Efficient Replication ex vivo and Transmission in vivo
Science
(online) November 12, 2020
doi:10.1126/science.abe8499
Yixuan J. Hou, Shiho Chiba, Peter Halfmann, Camille Ehre, Makoto Kuroda, Kenneth H Dinnon III, Sarah R. Leist, Alexandra Schäfer, Noriko Nakajima, Kenta Takahashi, Rhianna E. Lee, Teresa M. Mascenik, Rachel Graham, Caitlin E. Edwards, Longping V. Tse, Kenichi Okuda, Alena J. Markmann, Luther Bartelt, Aravinda de Silva, David M. Margolis, Richard C. Boucher, Scott H. Randell, Tadaki Suzuki, Lisa E. Gralinski, Yoshihiro Kawaoka* and Ralph S. Baric*
Description
コロナ禍におけるリスクコミュニケーションと偏見・差別
*only in Japanese
月刊福祉, 103(10):15-18, 全国社会福祉協議会, 2020/11.
MUTO Kaori (
武藤香織)
Research Support Information
AMED Research Projects on COVID-19
https://www.amed.go.jp/en/program/list/11/02/002_covid-19.html
■Diagnosis
FY2020
Project Title:Precision and portable diagnostics for viruses with new genome editing technology
Principal Investigator:Senior Assistant Professor YOSHIMI Kazuto at the Division of Animal Genetics
■Therapeutics
FY2020
Project Title:Studies to Control Emerging, Re-emerging and Imported Infectious Diseases to Be Conducted in International Collaboration Sites in China
Principal Investigator:Professor KAWAGUCHI Yasushi at the Research Center for Asian Infectious Diseases
FY2020
Project Title:Establishment of the antibody therapy against novel coronavirus disease (COVID-19)
Principal Investigator:Professor KAWAOKA Yoshihiro at the Division of Virology
■Vaccine
FY2019
Project Title:Study on the control of a novel coronavirus (2019-nCoV)
Principal Investigator:Professor KAWAOKA Yoshihiro at the Division of Virology
FY2020
Project Title:Development of a live attenuated vaccine against COVID-19
Principal Investigator:Professor KAWAOKA Yoshihiro at the Division of Virology
FY2020
Project Title:Development of a live attenuated vaccine against COVID-19 II
Principal Investigator:Professor KAWAOKA Yoshihiro at the Division of Virology
■Scientific Research on COVID-19
FY2020
Project Title:Investigation of the biological principle of the pathogenicity and cross-species transmission of emerging virus infections including SARS-CoV-2
Principal Investigator:Associate Professor SATO Kei at the Division of Systems Virology
FY2020
Project Title:Antibody response against SARS-CoV-2 infection and serosurveillance
Principal Investigator:Project Associate Professor YAMAYOSHI Seiya at Research Center for Asian Infectious Diseases
Related Information