Researchers at The Institute of Medical Science, The University of Tokyo play a global role in understanding SARS-CoV-2 and COVID-19 and share their mission of contributing to saving the lives of people.
Publications
Tansei vol.41 2020.09:UTokyo's Official Magazine
*only in Japanese
Press Releases
(Latest three releases)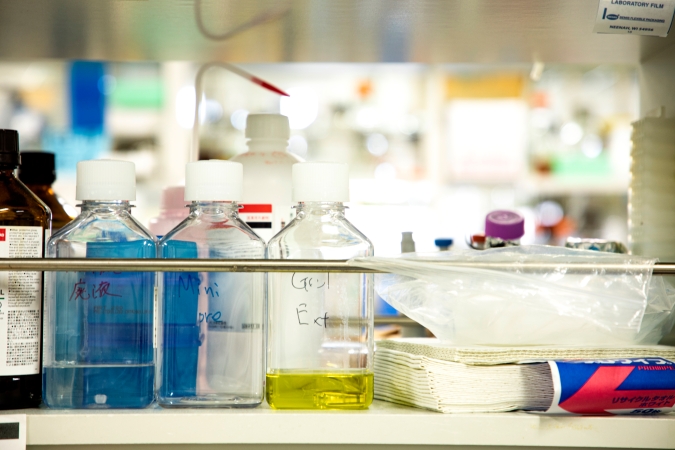 October 8, 2020
Identification of a viral factor that impairs immune responses in COVID-19 patients
Representative : Associate Professor SATO Kei at the Division of Systems Virology

July 27, 2020
Development of an accurate and rapid diagnostic method for COVID-19 using CRISPR-Cas3-Paper test strip results are possible within 40 minutes-
Representative : Professor MASHIMO Tomoji at the Division of Animal Genetics

June 30, 2020
Joint Research Coronavirus Task Force Established to Promote Research and Development of COVID-19 Vaccine for Mucosal Immunity Based on Genetic Findings of the Novel Coronavirus Disease
Joint research with Keio University, etc.: Professor IMOTO Seiya at the Division of Health Medical Intelligence

Scientific Papers
(Latest three papers)
COVID-19 risk assessment at the opening ceremony of the Tokyo 2020 Olympic Games
Microbial Risk Analysis
(online)
21 March 2021
doi:10.1016/j.mran.2021.100162
Michio Murakami
*
, Fuminari Miura, Masaaki Kitajima, Kenkichi Fujii, Tetsuo Yasutaka, Yuichi Iwasaki, Kyoko Ono, Yuzo Shimazu, Sumire Sorano, Tomoaki Okuda, Akihiko Ozaki, Kotoe Katayama, Yoshitaka Nishikawa, Yurie Kobashi, Toyoaki Sawano, Toshiki Abe, Masaya M.Saito, Masaharu Tsubokura, Wataru Naito, Seiya Imoto
(*corresponding author)
Sarbecovirus ORF6 proteins hamper the induction of interferon signaling
Cell Reports
(online)
March 12, 2021
doi:10.1016/j.celrep.2021.108916
Izumi Kimura, Yoriyuki Konno, Keiya Uriu, Kristina Hopfensperger, Daniel Sauter, So Nakagawa, Kei Sato* (*corresponding author)
Increased risk of rhinovirus infection in children during the coronavirus disease-19 pandemic
Influenza and Other Respiratory Viruses
(online)
2021;00:1–7.
doi:10.1111/irv.12854
Emi Takashita, Chiharu Kawakami, Tomoko Momoki, Miwako Saikusa, Kouhei Shimizu, Hiroki Ozawa, Makoto Kumazaki, Shuzo Usuku, Nobuko Tanaka, Ichiro Okubo, Hiroko Morita, Shiho Nagata, Shinji Watanabe, Hideki Hasegawa, Yoshihiro Kawaoka
Research Support Information
AMED Research Projects on COVID-19
https://www.amed.go.jp/en/program/list/11/02/002_covid-19.html
■Diagnosis
FY2020
Project Title:Precision and portable diagnostics for viruses with new genome editing technology
Principal Investigator:Senior Assistant Professor YOSHIMI Kazuto at the Division of Animal Genetics
■Therapeutics
FY2020
Project Title:Studies to Control Emerging, Re-emerging and Imported Infectious Diseases to Be Conducted in International Collaboration Sites in China
Principal Investigator:Professor KAWAGUCHI Yasushi at the Research Center for Asian Infectious Diseases
FY2020
Project Title:Establishment of the antibody therapy against novel coronavirus disease (COVID-19)
Principal Investigator:Professor KAWAOKA Yoshihiro at the Division of Virology
■Vaccine
FY2019
Project Title:Study on the control of a novel coronavirus (2019-nCoV)
Principal Investigator:Professor KAWAOKA Yoshihiro at the Division of Virology
FY2020
Project Title:Development of a live attenuated vaccine against COVID-19
Principal Investigator:Professor KAWAOKA Yoshihiro at the Division of Virology
FY2020
Project Title:Development of a live attenuated vaccine against COVID-19 II
Principal Investigator:Professor KAWAOKA Yoshihiro at the Division of Virology
■Scientific Research on COVID-19
FY2020
Project Title:Investigation of the biological principle of the pathogenicity and cross-species transmission of emerging virus infections including SARS-CoV-2
Principal Investigator:Associate Professor SATO Kei at the Division of Systems Virology
FY2020
Project Title:Antibody response against SARS-CoV-2 infection and serosurveillance
Principal Investigator:Project Associate Professor YAMAYOSHI Seiya at Research Center for Asian Infectious Diseases
Related Information