Comprehensive description of the human tissue virome in healthy individuals

―"Hidden" associations between the human virome and human health and disease-
Comprehensive description of the human tissue virome in healthy individuals
―"Hidden" associations between the human virome and human health and disease-
BMC Biorogy. on June 4, 2020. DOI:10.1186/s12915-020-00785-5
Human-resident microbes can influence both health and disease. Investigating the microbiome using next-generation sequencing(*1) technology has revealed examples of mutualism and conflict between microbes and humans. Compared to bacteria, the viral component of the microbiome (i.e. the "virome") (*2) is understudied. Somatic tissues of healthy individuals are usually inaccessible for virome sampling. Therefore, there is limited understanding of the presence and distribution of viruses in tissues in healthy individuals and how virus infection associates with human gene expression and perturbs immunological homeostasis. A research group at The Institute of Medical Science, The University of Tokyo (IMSUT) comprehensively described the "human tissue virome atlas" using a public database.

"The atlas we described will be useful to address the currently "hidden" associations between the human virome and human health and disease. Moreover, our analytic pipeline is versatile, and therefore, will be applicable to a variety of virological studies including the current COVID-19 pandemic.", said the lead scientist, Kei Sato, Associate Professor (Principal Investigator) in the Division of Systems Virology, Department of Infectious Disease Control, IMSUT.

(*1) Sequencing : Nucleotide sequencing techniques. The next generation sequencer can be used to determine nucleotide sequence information in parallel and at high speed. (*2) Virome : The assemblage of viruses, and a part of the microbiome.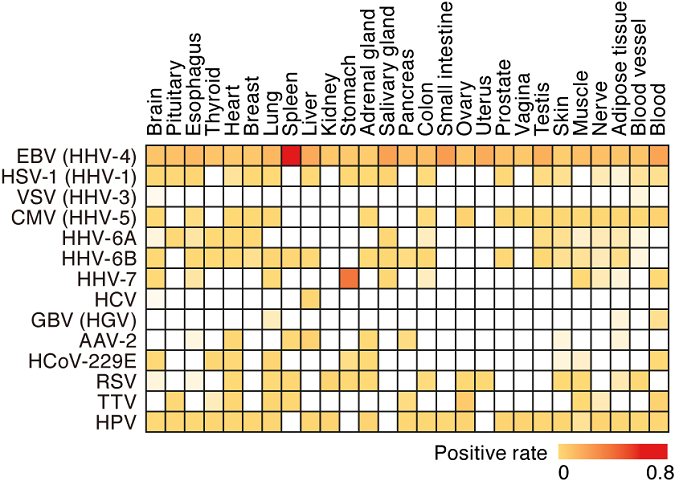 press release