Message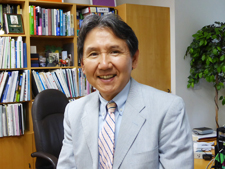 Tokyo Mucosal Patches (TMP) members are a key for our continuous growth of TMP as one of the leaders for the fields of Mucosal Immunology and Mucosal Vaccine. Although individual talent is essential for further advancement of our different exciting research projects, we also feel strongly that the unity as TMP is also another important aspect of our family for achieving individual and common goal of the understanding of fascinating mucosal immune system and its application to the prevention and control of infectious and immunological diseases. The TMP team sprit with our respect to individual talent can be recognized in our annual laboratory member picture taken under beautiful cherry blossoms in our campus. It is a new leaf of an album. We would like to make ever-lasting efforts in contributing all of our talents and skills for continuous development of Mucosal Immunology as the members of TMP, since we are so enchanted by the area of Mucosal Immunology as to call ourselves "Mucosal Patches".
Our "MucoRice" project was initiated as one of new challenges when we started to build Mucosal Immunology program here at the Institute of Medical Science, the University of Tokyo (IMSUT). Our effort has been aiming to develop new generation of mucosal vaccine satisfying our desire in the creation of "Cold-chain- and Needle-free Rice-based Vaccines with the full cooperation and support of talented agricultural researchers. Our results demonstrated that vaccine antigen in MucoRice is resistant to digestive enzymes due to the unique biological feature of protein body in rice seeds, thus well tolerated in harsh environment of gastrointestinal tract leading to the effective delivery of vaccine antigen into the Peyer's patches, which are one of the key immune-inductive sites in the intestinal immune system. We succeeded in developing a prototype of rice-based vaccine expressing cholera toxin subunit B (MucoRiceTM-CTB) as a new form of cholera vaccine, and confirmed that orally administered rice-based vaccine, MucoRiceTM-CTB effectively inhibited cholera toxin-induced diarrhea in mice (Proc. Natl. Acad. Sci. 2007). Under the kind supports from the Ministry of Economy, Trade and Industry of Japan, Bio-oriented Technology Research Advancement Institution in Japan, and Bill & Melinda Gates Foundation Grand Challenges Explorations, our efforts are continuing in further developing MucoRice system as a novel form of the immune-therapeutics against mucosa associated immunological diseases in addition to mucosal vaccine against various emerging and re-emerging infectious pathogens.
At the beginning of TMP laboratory, several new and ongoing projects were carried by our productive investigators."BacImmunology" was proposed and executed for the understanding of mutual interaction between the mucosal immune system and intestinal microflora.For the elucidation of uniqueness in organogenesis program of the respiratory immune system, a project entitled "MucoAir" has been continuously carried out even the transition period from Osaka to Tokyo.The other project entitled "MucoDisease" has been focused on the grasping the contribution of the mucosal immune system in the development of respiratory and intestinal allergy/inflammatory disease. Based on the progress made by the three areas, these projects are naturally merged and developed into novel areas of "MucoEnvironment" project. In this new project, we are examining immunological crosstalk between the mucosal immune system and environmental factors including commensal flora, dietary ingredients and pathogens for the control of immunologically homeostatic and pathogenic conditions by adopting microbial genomic analyses, food/nutritional sciences, and imaging technologies in addition to advanced immunological analyses under the supports from the Ministry of Education, Science, Sports, and Culture of Japan and the Ministry of Health and Welfare of Japan. Until now, we have achieved to show that sphingosine 1-phosphate, a lipid mediator, is a key molecule in the regulation of gut immune system and the control of food allergy (Blood 2008, J. Immunol. 2008, J. Exp. Med.2007, Blood 2007, J. Immunol. 2007). Of course, our recent results suggest two attractive possibilities for the mucosal crosstalk, which include 1) intratisssue cohabitation of commesal flora and 2) a critical role of mucosal immunocompetent cells can for the creation of cohabitation niche together with epithelial cells for commensal flora. Thus, "MucoEnvironment" project are gaining more attention and making accelerate progress. To this end, a chief of the project leaders for "MucoEnvironment" project, Jun Kunisawa, received three awards including JSI Young Investigator's award, JBF Research Award and The Kao Foundation for Arts and Science, 2008 Kao Research Initiative Award in 2008. This fact reflects our progress and accomplishment in newly created "MucoEnvironment" project in TMP.
All of our excited ongoing projects and achievements are based upon tremendous efforts of TMP members and their willingness for their commitment and hard work for Mucosal Immunology. We shall continuously provide our best efforts and all of talents for leading the field of Mucosal Immunology. We are fortunate to welcome promising TMP freshmen 2009 for further enforcement of our research capabilities in caring novel experiments in Mucosal Immunology and Mucosal Vaccine Development. Everyone who is interested in fascinating aspect of Mucosal Immunology is always welcome to visit and/or join TMP. Our door is always open for you here at The Institute of Medical Science, the University of Tokyo.