New evidence for optimising malaria treatment in pregnant women

-Findings that ACTs were significantly more effective than quinine-
New evidence for optimising malaria treatment in pregnant women
-Findings that ACTs were significantly more effective than quinine-
The research, published in
The Lancet Infectious Diseases
is the fruit of joint project between investigators from around the world to conduct the largest individual patient data meta-analysis to date under
The WorldWide Antimalarial Resistance Network(WWARN)
umbrella. The study found that artemether-lumefantrine (AL) (*1) and other artemisinin-based combination therapies (ACTs) (*2) were significantly more effective than quinine, the current recommended treatment. Authors urgently call for further investigation into dose optimisation for pregnant women to ensure the highest possible treatment success. A joint research group consisting of WWARN,
University of Oxford
and
The Institute of Medical Science, The University of Tokyo
announced on the 29th (GMT).
(*1)
Artemether-lumefantrine (AL)
Artemether-lumefantrine consists of an artemisinin derivative (artemether) and another antimalarial with a longer half-life (lumefantrine). AL is the most commonly and widely used ACT in the world.
(*2)
Artemisinin-based combination therapy (ACT)
Artemisinin-based combination therapy (ACT) is the current standard treatment for uncomplicated falciparum malaria in non-pregnant patients, which has decreased the mortality from malaria dramatically. ACT consists of artemisinin-derivatives and partner drug(s), which has different mechanisms of action and a longer half-life. Artemisinin is derived from an herbal plant (Artemisia annua, see picture). The 2015 Nobel Prize was awarded for the discovery of artemisinin. There are several antimalarials that can be combined with artemisinins as a partner drug.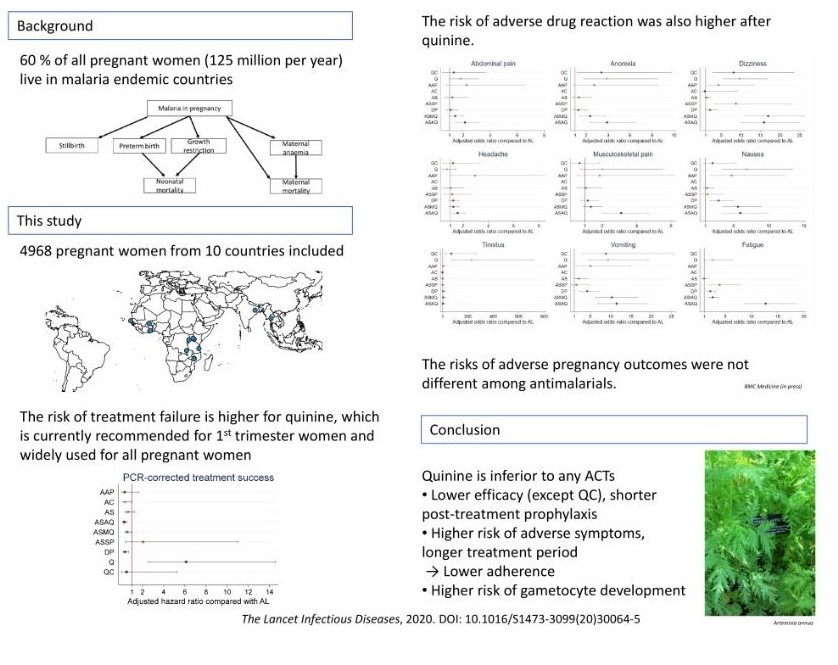 press release