Generation of rejuvenated antigen-specific T cells by reprogramming to pluripotency and redifferentiation
Generation of rejuvenated antigen-specific T cells by reprogramming to pluripotency and redifferentiation
Cell Stem Cell 12 2013, 114-126, doi: http://dx.doi.org/10.1016/j.stem.2012.11.002.
The human immune system is composed of multiple types of immune cells. Cytotoxic T cells are the front-line warriors combating pathogens and diseases. T-cell immune response is initiated most efficiently when naïve CD8+ cytotoxic T cells are activated by their cognate antigens. In chronically ill patients, because of repeated stimulation by pathogenic antigens, T cells fall into a state known as "cellular senescence" or "exhaustion," a type of aged state. Such replicative senescence is also a major issue for adoptive cell therapy using ex vivo-expanded antigen-specific cytotoxic T cells.
In the current study, Professor Hiromitsu Nakauchi and his research group at the Institute of Medical Science, the University of Tokyo demonstrated the rejuvenation of exhausted T cells by passing through induced pluripotent stem (iPS) cell intermediate.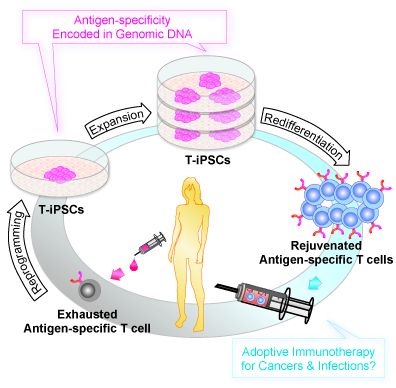 The researchers prepared T cells from HIV-infected patients and reprogrammed them into iPS cells (T-iPSCs). Furthermore, they showed that redifferentiation of these cells produced mature CD8+ T cells that recognize their original cognate antigen and exhibit long telomeres, the features of rejuvenation. This is significant because exhaustion of T cells limits cell expansion and efficiency of therapeutic use.
The system established here provides "rejuvenated and regenerated" antigen-specific T cells by taking advantage of reprogramming technology. These findings suggest that manipulating T cells using iPSC techniques could be useful for future development of more effective immune therapies.