Access Map
Access map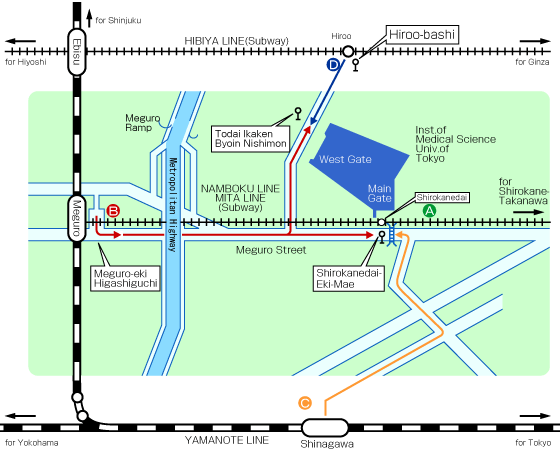 Access
| | |
| --- | --- |
| A | Shirokanedai station of Namboku Line or Mita Line. |
| | |
| --- | --- |
| B | From east exit of JR Meguro station of Yamanote line, take bus (No.77) for Sendagaya or bus (No.86) for Nihonbashi-Mitsukoshi and get off the bus at Todai-Ikaken-Byoin-Nishimon bus stop. |
| | |
| --- | --- |
| C | From JR Shinagawa Station, take bus (No.93) for Meguro and get off the bus at Hiyoshi-saka-ue bus stop. |
| | |
| --- | --- |
| D | D. Take bus (No.77, 86) for Meguro from Hiroobashi bus stop near Hiroo station of subway Hibiya line and get off the bus at Todai-Ikaken-Byoin-Nishimon bus stop. |
West Gate and Back Gate are temporarily closed until further notice to prevent the spread of the novel coronavirus.
We apologise for any inconvenience this may cause. Thank you for your understanding and cooperation.

Access from airport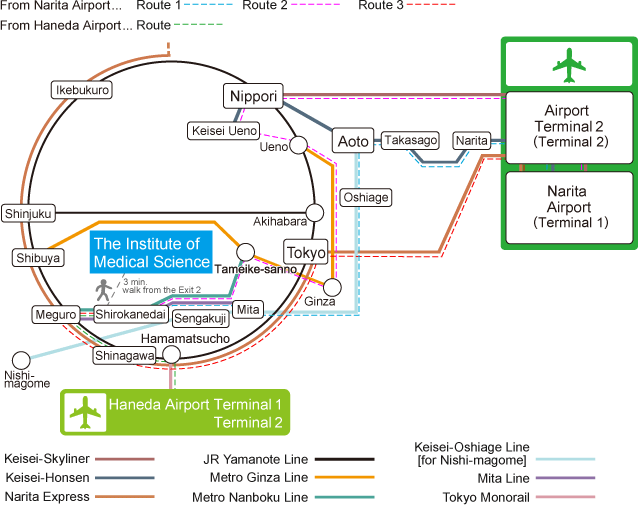 From Narita Airport
» Narita Airport Official Website.
There are some routes to get our Institute from Narita Airport. The following are the most common and the easiest ways.
Route 1 (Low Cost)
Route 2 (Comfortable)
Route 3 (Comfortable)

♦Transfer

2 times

♦Fee

1,150 JPY

♦Time

1 hour 37 min
(lay-over is not included)

♦Transfer

2 times

♦Fee

2,270 JPY

♦Time

1 hour 23 min.
(lay-over is not included)

♦Transfer

2 times

♦Fee

3,440 JPY from "Narita Airport Station"
3,270 JPY from "Airport Terminal 2 Station"

♦Time

1 hour 32 min.~35 min.
(lay-over is not included)

» Digital timetable & Course
and fare search software
» Digital timetable & Course
and fare search software
» Digital timetable & Course
and fare search software

Narita Airport Station /
Airport Terminal 2 Station (FYR: It takes 3 min. between "Narita Airport" and "Airport Terminal 2")
Keisei-Honsen
(1 hour 2 min) *
Aoto Station
Keisei-Oshiage Line
[for Nishi-magome]
(via "Oshiage", connect to Asakusa Line from "Oshiage")
Mita Station
Mita Line

Shirokanedai Station
3 min. walk from the Exit 2
Institute of
Medical Science

* If you want to spend this time more comfortably, route 2) or 3) below is a better choice. It costs more, but your seat is reserved.

Narita Airport Station /
Airport Terminal 2 Station (FYR: It takes 3 min. between "Narita Airport" and "Airport Terminal 2")
Keisei-Skyliner
(56 min.)
(Keisei) Ueno Station
Metro Ginza Line



Tameike-san-no Station
Metro Nanboku Line

Shirokanedai Station
3 min. walk from the Exit 2
Institute of
Medical Science

Narita Airport Station /
Airport Terminal 2 Station (FYR: It takes 3 min. between "Narita Airport" and "Airport Terminal 2")
Narita Express
(1 hour 9 min. ~12 min.)
Shinagawa Station
JR Yamanote Line (outbound)



Meguro Station
Metro Nanboku Line
or Mita Line
Shirokanedai Station
3 min. walk from the Exit 2
Institute of
Medical Science
From Haneda Airport
» Haneda Airport Official Website
From Haneda Airport
♦Transfer

2 times

♦Fee

790 JPY

♦Time

34 min. (lay-over is not included)
» Digital timetable & Course and fare search software
Haneda Airport Terminal1 Station /
Haneda Airport Terminal 2 Station (FYR:A free terminal shuttle bus is available every 5 min. between 6:00-23:00 for transfer between the international terminal and domestic terminals.)
Hamamatsu-cho Station
JR Yamanote Line (outbound)
Meguro Station
Metro Nanboku Line or Mita Line
Shirokanedai Station
3 min. walk from the Exit 2
Institute of Medical Science