---
---
OUTSTANDING STUDENT PUBLICATION AWARD

In March 2019, IMSUT presented awards for outstanding research to two students working at the Institute.

MOST OUTSTANDING STUDENT PUBLICATION AWARD FY 2018
Awarded to Mr. Atsuhiro Yasuhara, Division of Virology, Department of Microbiology and Immunology (Supervisor: Professor Yoshihiro Kawaoka)
For the paper "Antigenic drift originating from changes to the lateral surface of the neuraminidase head of influenza A virus.",
Nature Microbiology. 2019 Jun(Epub 2019 Mar 18);4(6):1024-1034, DOI: 10.1038/s41564-019-0401-1

OUTSTANDING STUDENT PUBLICATION AWARD FY 2018
Awarded to Ms. Miyu Moriyama, Division of Viral Infection, International Research Center for Infectious Diseases (Supervisor: Associate Professor Takeshi Ichinohe)
For the paper "High ambient temperature dampens adaptive immune responses to influenza A virus infection.",
Proc Natl Acad Sci U S A. 2019 Feb 19;116(8):3118-3125, DOI: 10.1073/pnas.1815029116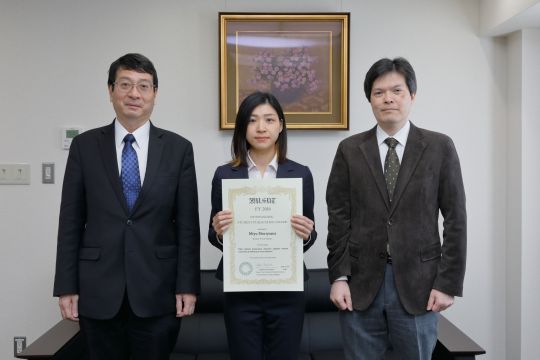 *From left: Dean Murakami, recipient of award, Vice Dean Takekawa


---
Previous award recipients
---
BEST POSTER AWARD

Each June IMSUT holds a symposium to commemorate the anniversary of IMSUT's founding and also to provide the opportunity for younger researchers to present the results of their studies.
The top four posters are selected through votes cast by the professors.

Best Poster Award 2019

First Place Poster Award
Naoaki Mizuno (Division of Stem Cell Therapy)
"Large fragment knock-in by zygote genome editing with adeno-associated viral vector and CRISPR/Cas9"

Second Place Poster Award
Hisashi Moriizumi (Division of Cell Signaling and Molecular Medicine)
"Mathematical analysis of the spatio-temporal regulation of the SAPK pathway"

Nao Sankoda (Division of Stem Cell Pathology)
"Mutually Dependent Patterning of Gata4 and Fgf10 Trigger Epithelial Specification to Create a Squamous-columnar Junction in the Stomach"

Third Place Poster Award
Jumpei Taguchi (Division of Stem Cell Pathology)
"In vivo reprogramming leads to development of germ cell tumors via Dmrt1-mediated epigenetic reprogramming"



---
Previous award recipients
---