---
---
OUTSTANDING STUDENT PUBLICATION AWARD

In March 2020, IMSUT presented awards for outstanding research to two students working at the Institute.

MOST OUTSTANDING STUDENT PUBLICATION AWARD FY 2019
Awarded to Mr. Sousuke Nakamura, Division of Molecular Therapy, Advanced Clinical Research Center (Supervisor: Professor Arinobu Tojo)
For the paper "Prognostic impact of circulating tumor DNA status post-allogeneic hematopoietic stem cell transplantation in AML and MDS.",
Blood, 133(25), 2682-2695, Jun 2019, DOI: 10.1182/blood-2018-10-880690.

OUTSTANDING STUDENT PUBLICATION AWARD FY 2019
Awarded to Mr. Kosuke Takada, Division of Virology, Department of Microbiology and Immunology (Supervisor: Professor Yoshihiro Kawaoka)
For the paper "A humanized MDCK cell line for the efficient isolation and propagation of human influenza viruses.",
Nature Microbiology, 4(8), 1268-1273, Aug 2019, DOI: 10.1038/s41564-019-0433-6.

Awarded to Ms. Boon Min Poh, Division of Molecular Pathology, Department of Cancer Biology (Supervisor: Professor Yoshinori Murakami and Project Professor Sumiko Watanabe)
For the paper "Foxr2 promotes formation of CNS-embryonal tumors in a Trp53-deficient background.",
Neuro-Oncology, 21 (8), 993-1004, Apr 2019, DOI: 10.1093/neuonc/noz067.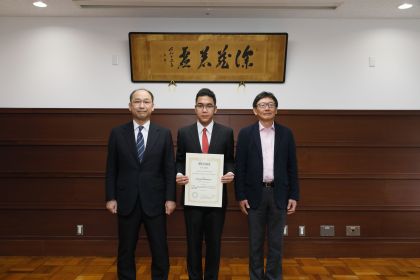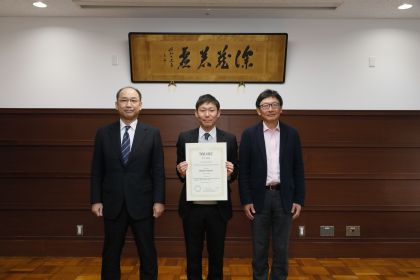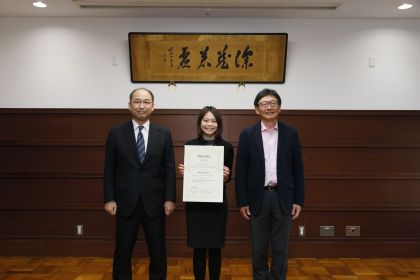 *From left: Dean Yamanashi, recipient of award, Vice Dean Nakanishi


---
Previous award recipients
---
BEST POSTER AWARD

Each June IMSUT holds a symposium to commemorate the anniversary of IMSUT's founding and also to provide the opportunity for younger researchers to present the results of their studies.
The top four posters are selected through votes cast by the professors.

Best Poster Award 2019

First Place Poster Award
Naoaki Mizuno (Division of Stem Cell Therapy)
"Large fragment knock-in by zygote genome editing with adeno-associated viral vector and CRISPR/Cas9"

Second Place Poster Award
Hisashi Moriizumi (Division of Cell Signaling and Molecular Medicine)
"Mathematical analysis of the spatio-temporal regulation of the SAPK pathway"

Nao Sankoda (Division of Stem Cell Pathology)
"Mutually Dependent Patterning of Gata4 and Fgf10 Trigger Epithelial Specification to Create a Squamous-columnar Junction in the Stomach"

Third Place Poster Award
Jumpei Taguchi (Division of Stem Cell Pathology)
"In vivo reprogramming leads to development of germ cell tumors via Dmrt1-mediated epigenetic reprogramming"



---
Previous award recipients
---