---
---
OUTSTANDING STUDENT PUBLICATION AWARD

In March 2021, IMSUT presented awards for outstanding research to three students working at the Institute.

MOST OUTSTANDING STUDENT PUBLICATION AWARD FY 2020
Awarded to Mr. Satotaka Omori, Division of Cancer Cell Biology, Department of Cancer Biology (Supervisor: Professor Makoto Nakanishi)
For the paper "Generation of a p16 Reporter Mouse and Its Use to Characterize and Target p16high Cells In Vivo",
Cell Metabolism, 32(5), 814-828, Nov 2020, DOI: 10.1016/j.cmet.2020.09.006

OUTSTANDING STUDENT PUBLICATION AWARD FY 2020
Awarded to Mr. Hirofumi Kosuge, Medical Proteomics Laboratory (Supervisor: Professor Kohei Tsumoto)
For the paper "Proteomic identification and validation of novel interactions of the putative tumor suppressor PRELP with membrane proteins including IGFI-R and p75NTR",
Journal of Biological Chemistry, 296, 100278, Jan 2021, DOI: 10.1016/j.jbc.2021.100278

Awarded to Mr. Kou Hioki, Division of Vaccine Science, Department of Microbiology and Immunology (Supervisor: Professor Ken Ishii)
For the paper "Discovery of Self-Assembling Small Molecules as Vaccine Adjuvants",
Angewandte Chemie-International Edition, 60(2), 961-969, Jan 2021, DOI: 10.1002/anie.202011604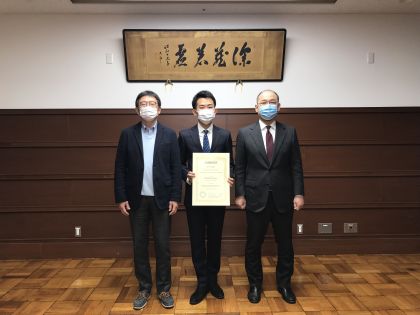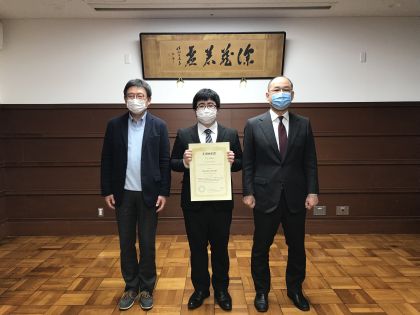 *From right: Dean Yamanashi, recipient of award, Vice Dean Nakanishi


---
Previous award recipients
---
BEST PRESENTATION AWARD

IMSUT holds a symposium to commemorate the anniversary of IMSUT's founding and also to provide the opportunity for younger researchers to present the results of their studies annually.
The top three presentations are selected through votes cast by the professors.

Best Presentation Award 2020

First Place Poster Award
Shun Uemura (Division of Stem Cell and Molecular Medicine)
"Novel Hippo pathway inhibitors ameliorate bone marrow environment after myelosuppressive stress"

Second Place Poster Award
Satotaka Omori (Division of Cancer Cell Biology)
"Generation of a p16 reporter mouse and its use to characterize and target p16high cells in vivo"

Third Place Poster Award
Xiaoxiao Liu (Laboratory of Molecular Oncology)
"Inhibition of IMPDH as An Effective Treatment for Acute Leukemias"



---
Previous award recipients
---