---
---
OUTSTANDING STUDENT PUBLICATION AWARD

In March 2023, IMSUT presented awards for outstanding research to seven students working at the Institute.

MOST OUTSTANDING STUDENT PUBLICATION AWARD FY 2022
Awarded to Mr. Akito Yamamoto, Division of Medical Data Informatics, Human Genome Center (Supervisor: Professor Tetsuo Shibuya)
For the paper "Efficient and Highly Accurate Differentially Private Statistical Genomic Analysis using Discrete Fourier Transform",
IEEE International Conference on Trust, Security and Privacy in Computing and Communications, 2022;525-532

OUTSTANDING STUDENT PUBLICATION AWARD FY 2022 (Japanese syllabary order)
Awarded to Mr. Seisho Kinoshita, Medical Proteomics Laboratory (Supervisor: Project Professor Kohei Tsumoto)
For the paper "Molecular basis for thermal stability and affinity in a VHH: Contribution of the framework region and its influence in the conformation of the CDR3",
Protein Science, 2022 Nov;31(11):e4450, DOI: 10.1002/pro.4450

Awarded to Mr. Shota Tomomatsu, Division of RNA and Gene Regulation, Department of Basic Medical Sciences (Supervisor: Professor Toshifumi Inada)
For the paper "Two modes of Cue2-mediated mRNA cleavage with distinct substrate recognition initiate no-go decay",
Nucleic Acids Research, 2023 Jan 11;51(1):253-270, DOI: 10.1093/nar/gkac1172

Awarded to Ms. Momoko Narita, Division of RNA and Gene Regulation, Department of Basic Medical Sciences (Supervisor: Professor Toshifumi Inada)
For the paper "A distinct mammalian disome collision interface harbors K63-linked polyubiquitination of uS10 to trigger hRQT-mediated subunit dissociation",
Nature Communications, 2022 Oct 27; 13(1):6411, DOI: 10.1038/s41467-022-34097-9

Awarded to Mr. Zeheng Bai, Division of Health Medical Intelligence, Human Genome Center (Supervisor: Professor Seiya Imoto)
For the paper "Identification of bacteriophage genome sequences with representation Learning",
Bioinformatics, 2022 Sep 15;38(18):4264-4270, DOI: 10.1093/bioinformatics/btac509

Awarded to Mr. Takanori Yokoo, Medical Proteomics Laboratory (Supervisor: Project Professor Kohei Tsumoto)
For the paper "Antibody recognition of complement factor H reveals a flexible loop involved in atypical hemolytic uremic syndrome pathogenesis",
Journal of Biological Chemistry, 2022 Jun;298(6):101962, DOI: 10.1016/j.jbc.2022.101962

Awarded to Ms. Sihan Li, Division of RNA and Gene Regulation, Department of Basic Medical Sciences (Supervisor: Professor Toshifumi Inada)
For the paper "Sensing of individual stalled 80S ribosomes by Fap1 for nonfunctional rRNA turnover",
Molecular Cell, 2022 Sep 15;82(18):3424-3437.e8, DOI: 10.1016/j.molcel.2022.08.018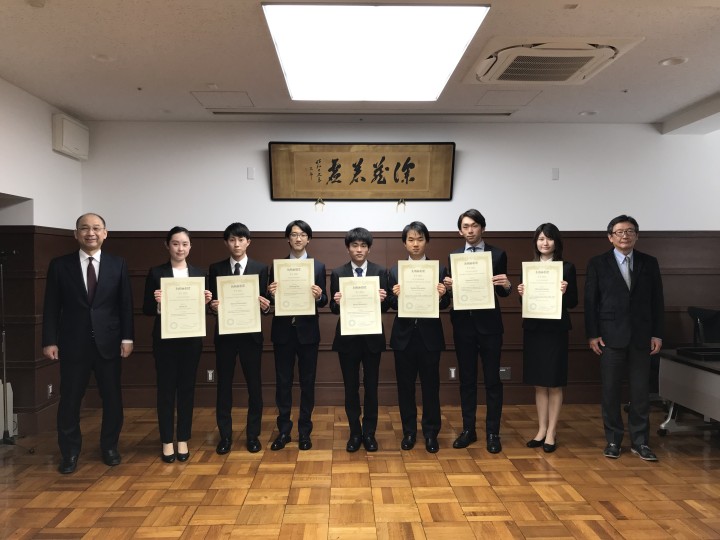 *From left: Dean Yamanashi, recipient of award, Vice Dean Nakanishi


---
Previous award recipients
---
BEST PRESENTATION AWARD

IMSUT holds a symposium to commemorate the anniversary of IMSUT's founding and also to provide the opportunity for younger researchers to present the results of their studies annually.
The top three posters are selected through votes cast by the professors.

Best Posters Award 2023

First Place Poster Award
Hiroyuki Matsumura (Division of Aging and Regeneration)
"Stem cell competitive dynamics orchestrate skin homeostasis, aging and carcinogenesis"

Second Place Poster Award
Junichiro Nashimoto (Division of Cell Signaling and Molecular Medicine)
"Analysis of the expression mechanism and molecular function of an oncogenic ERK-inducible tetraspanin protein in cancer"

Third Place Poster Award
Takanori Tannaka (Division of Molecular Virology)
"Effective down-regulation of HSV-1 UL7 by Tyrosine@phosphorylation in vitro and in vivo"

Yue GuoiDivision of Molecular Pathology)
"Trans-homophilic interaction of IGSF3 drives melanoma metastasis by promoting the adhesion to the vascular endothelium"



---
Previous award recipients
---