The protein of MTHFD2 is located in mitochondria matrix, and functions for one-carbon metabolism. To examine the metabolic changes with the knockdown of MTHFD2, it is necessary to quantify the intracellular metabolite concentrations using mass spectrometery.

  I went to the Lysosomal Diseases Research Unit, the Women's and Children's Hospital, in Adelaide, South Australia. In this Dr. John's lab, there are mass spec staffs who developed the methods to measure various molecules. They do analysis in lots of different kinds of samples (e.g., fibroblast cell cultures, tissue homogenates). I learned some general mass spec methods from them. How to adjust the mass spec machine for each sample, and what is read out from the data. I had many chances to discuss with them, so it was very meaningful time for me. Now I'm planning to examine the changes of metabolites with the knockdown of MTHFD2 by mass spec. I expect that this project will contribute to find out the molecular mechanisms; how MTHFD2 functions in cancer cells.

   I appreciate the fund from Japan Society for the Promotion of Science (JSPS) for the "Institutional Program for Young Researcher Overseas Visits" and its management staffs for this great experience.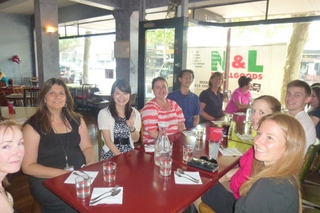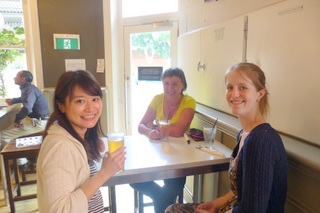 Lab Members                            At Lunch Time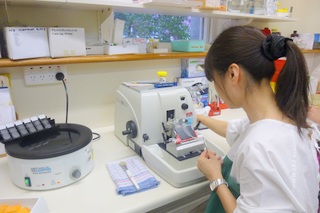 During Experiment